With the rising popularity of smartphones with new, innovative GPS tracking capabilities, many medic alert system providers have developed mobile apps to complement and improve their services. These life alert apps are useful for those who don't want to or can't afford to purchase a mobile unit. Exceptionally helpful in an emergency, all of these apps are available for iOS and Android smartphones.
iMedAlert
iMedAlert, a free app recommended by Innovatemedtec, is an excellent way to notify emergency care professionals of an individual's location and medical history during an emergency. When the user indicates that he or she feels in danger, the app will send an emergency call, text message or email to either 911 or loved ones. iMedAlert also stores relevant medical information, such as blood type, allergies and medications, which are forwarded to paramedics and other medical professionals during an emergency.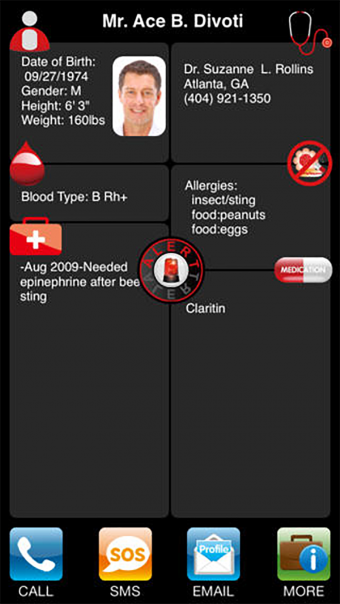 Medical ID: Emergency
Medical ID: Emergency (ICE) is a free, straightforward medical alert program that comes with iOS devices and can be installed on Android smartphones. With an impressive overall rating of 4.5 stars from SensorTower, this app is recommended for everyone, regardless of age or medical issues.
ICE stores the user's medical information, accessible from the phone's lock screen, in case of an emergency. The user simply creates a medical profile containing pertinent health information. ICE also enables the user to send emergency health alerts, text messages, or calls to contacts with a single click, through the "In Case of Emergency" contact section.
Kinetic Global AKA Lifeline Response
Kinetic Global, also known as LifeLine Response, listed by Senior Living as one of the top medical alert systems apps, is available for both Android and iOS. The app is designed for helping authorities locate you via GPS tracking in case of an emergency, whether it's a medical incident, crime, or any situation where you need immediate help and cannot make a call. When activated the phone emits a noise and flashes and the authorities are alerted to your position. It's also compatible with wearable devices such as the Apple Watch and Garmin. You can include all of your emergency contact information and a health profile in the system.
The app has a subscription fee of $4.99 per month although there's a 14 day free trial. You can save 25% off the monthly rate by purchasing a three-year subscription. There are also one to three year subscription plans for your family with a 25% discount for up to four phones.
Alert App
For loved ones who suffer from seizures, the Alert App can be a source of support. The app detects physical activity that may be related to a seizure and sends a text and phone call to your designated caregivers. The app is available for iOS and Android phones. The app gets a 4.2 out of 5 star rating from users.
The app requires a subscription to be active. For a single caregiver it's $9.90 per month or $99 a year. For up to three caregivers it's $19.90 a month or $199 a year, and the unlimited caregiver plan which includes reporting features is $44.90 a month or $449 a year.
In Case of Emergency
Whether simply collecting an emergency contact list or offering personal 24/7 emergency assistance, today's medical alert apps offer tools that promote independence and personal security, while simultaneously providing peace of mind to loved ones. These apps are ideal for seniors who live alone as well as people with chronic health conditions.
It is important to note, however, that these apps will not work if the cell phone loses battery power, and can only provide minor support during an emergency call; the person still has to summon help, so be sure that you or your loved ones are suitably prepared.