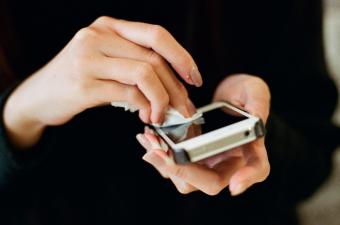 Recent research indicates cell phones are up to 10 times dirtier than a toilet seat, collecting all sorts of germs and bacteria. To clean them safely and effectively, both for hygiene reasons and for your peace of mind, you might consider investing in some dedicated sanitary wipes for your mobile devices.
Don't Use Household Wipes
While it may be tempting to clean your cell phone using any variety of household wipes, antibacterial wipes, or even baby wipes, this practice is generally not recommended. Household cleaners may be effective in killing bacteria and removing grime, but the chemicals and materials utilized can be abrasive or even corrosive, irreversibly damaging your mobile phone.
On its support page, Apple indicates the iPhone features an oleophobic coating. This oil-repellent coating is what helps to reduce the amount and severity of fingerprints and other smudges on the phone. Many other modern smartphones have a similar kind of coating and using the wrong types of cleaning products "will further diminish the coating and might scratch your iPhone."
Apple says you should not use window cleaners, compressed air, aerosol sprays, ammonia, and other similar products to clean the iPhone. The same advice also generally applies to other mobile electronics.
Sanitary Phone Wipes
Because it is recommended you do not use standard household antibacterial wipes on your cell phone, several companies sell wipes specifically designed for sanitizing your personal electronics. These wipes are typically free of abrasive chemicals and should be both non-streaking and non-corrosive. The streak-free clean is important, particularly for the display of your phone. The cleaning agent is usually isopropyl alcohol or similar.
In the case of Wireless Wipes, the wipes themselves are made from a "quick drying fabric made exclusively for mobile devices," and they are offered in three different scents: rosemary peppermint, green tea cucumber, and pomegranate citrus. Wireless Wipes says its wipes can clean electronics "without the danger of static discharge." The wipes are available in bulk for about $2 a pouch (each pouch contains 12 wipes) or as a monthly subscription.
Office supply stores like Office Depot sell similar sanitizing wipes for cell phones, and the cost per wipe is roughly equivalent. Another alternative is to invest in a UV sanitizer for your personal electronics.
DIY Cleaning Options
If you would rather avoid the expense of picking up sanitary wipes specific for your cell phone, a great number of tutorials are available online for how you can go about cleaning your mobile device with items you may already have around the house.
The guide on Buzzfeed recommends using bottled water, 70 percent isopropyl alcohol, a mini spray bottle, and a microfiber or lint-free cloth, similar to what you may already use on your eyeglasses. The recommendation from Mashable is similar, but they also suggest you try using cotton swabs for tough to reach places. You might also consider using distilled water and white vinegar instead of rubbing alcohol.
Florence Ion from Greenbot says she likes using Wireless Wipes or screen cleansing towelettes from Sephora, but she also echoes the same recommendation with rubbing alcohol, a vinegar mixture, distilled water, a spray bottle, and a microfiber cleaning cloth. Toothpicks can be useful for getting into the smallest of crevices too.
A Germ-Free Cell Phone Solution
Just as it is generally a good practice to wash your hands both before and after eating, sanitizing your cell phones on a regular basis with the right kinds of wipes and non-corrosive solutions is a good habit to develop. You wouldn't rub your fingers and face all over a toilet seat several times a day, right?