Five Unique iPhone 4 Case Styles
There are many unique iPhone 4 cases that deviate from the norm. Sure, many people may have the standard "bumper" case to help with some of the iPhone 4's reception issues and other people may opt for a rather standard rubbery case for comfort, but some companies have been very creative with their cases for the iPhone 4.
Five iPhone 4 Cases
Some options for iPhone cases are functional, some are fashionable, and some iPhone 4/4S cases are just quirky and different! Choose an option that meets your needs and fits your personality and unique sense of style.
1. Battery Pack iPhone Cases
Since the iPhone 4 and iPhone 4S do not have user-replaceable batteries, you are effectively stuck with whatever battery life you are able to get with the standard battery. There are some external battery cases that plug into the dock connector, but these can be cumbersome. If battery life is an important consideration for you, consider choosing a case that comes with a built-in booster battery.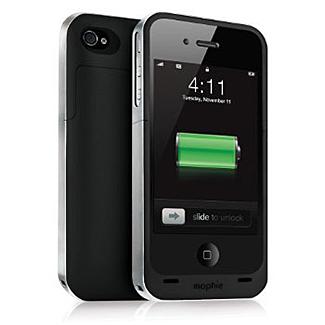 The Mophie Juice Pack Air is a great example of this type of case for iPhone 4 phones. It only adds minimal bulk to the Apple iPhone, but it contains a built-in rechargeable battery that "virtually doubles your time to rock, talk, surf and send." It's also effective at protecting your iPhone from the bumps and bruises that come along with daily use.
2. iPhone Case with Card Holder
For many people, there are three main priorities when they leave the house: phone, keys, wallet. However, it may be possible to eliminate that third item when you choose a case that allows you to integrate your wallet with your cell phone. If all you need to bring with you is your driver's license and a credit card, it makes a lot of sense to have an iPhone 4 case that doubles as a mini-wallet.
That's exactly what you will get with the Case-Mate ID Credit Card Case. The back of the case has an appropriate slot that is similar in some ways to a money clip. Don't expect to be able to load it with a dozen loyalty cards, bank cards, and business cards. Instead, the slim case accommodates up to two credit card-sized items. There's a snug fit to ensure the cards don't fall out from the impact-resistant shell.
3. Bamboo and Wood Cases
Typical cell phone cases are made of plastic, metal or silicone, but they are not the only options. If you prefer a more natural look, consider going with a wood or bamboo-look case. Element Case has a Wood Series that is attractive and practical. For durability and longevity, Element Case uses "rich wood veneer laminated to a high impact polycarbonate" rather than solid wood. This allows the case to be both light and strong, all while maintaining a very unique wooden look.
4. Built-In Solar Charger
The Mophie Juice Pack Air described above can be very useful for extending the battery life of your iPhone 4 or iPhone 4S, but it is still necessarily limited by its own capacity. A different approach is a case like the Eton Mobius Case. It is somewhat bulkier, but it comes the added advantage of having a solar panel integrated into the back plate. In this way, the iPhone is able to keep charging by soaking in some light. In addition to the solar charging aspect, the Mobius also has an internal 1800mAh rechargeable lithium ion battery, giving it the ability to store energy for later use.
5. Quirky Fake Food Cases
It's not entirely uncommon to find people with sparkly iPhone cases or other eye-catching designs, but few are quite as quirky as the iPhone 4/4S cases from Fake Food Japan. As the name of the company quite clearly implies, these cases take on designs that mimic the look of culinary delights. The designs range from fried rice and miso soup to uncured ham and kelp with mushrooms. Imagine the looks you'll get when people see you holding what looks like your lunch up to your face!
More Unique iPhone 4 Cases
There are new and unique iPhone 4/4S cases being developed and sold all the time. These include strange designs, like the fake food example, as well as some that are increasingly useful. These can add features and functions that aren't normally a part of the iPhone, so before you go out and buy yet another generic case, have a look to see what else is available.