Where to Buy Unlocked Cell Phones Online
Unlocked cell phones can provide a great deal of flexibility, but you're not likely to find them at your local wireless store. There are, however, a number of places where you can find a variety of unlocked handsets, fitting a wide range of needs and budgets.
Six Places to Find Unlocked Cell Phones
The more conventional route for buying a cell phone is to go to the brick-and-mortar store of a local wireless carrier like AT&T or Verizon, but these stores typically do not sell unlocked cell phones. For that, third party retailers are usually the best way to go.
1. Best Buy
The Best Buy website has a section that is dedicated to the sale of unlocked mobile phones. Navigation is easy to understand, with the best selling products being shown first. The results can be further narrowed down by various criteria along the left sidebar, like choosing the device brand, the operating system, the price range, and whether or not there is a current promotional offer on the device.
The vast majority of unlocked phones sold are Android smartphones by companies like Samsung and HTC, but Best Buy also sells unlocked BlackBerry and Windows Phone devices. Prices range from less than $50 to about $800, and shipping is typically free.
Best Buy's e-commerce site is easy to use, but online reviews of the store's online shopping experience are mixed. One member on ResellerRatings.com states that Best Buy needs to "really modernize their website and inventory system to be accurate."
2. ebay
There are two main types of sellers on ebay. The first are private individuals and the second are online businesses who have set themselves up with ebay stores. Both types of sellers can be found in the site's unlocked cell phones and smartphones section. Since each seller acts individually, the pricing, reliability, trustworthiness and shipping costs will vary considerably.
Just about every brand is available on ebay, including Nokia, Apple and BlackBerry. Unlike most conventional online retailers, ebay lists a range of used or refurbished unlocked phones as well as new models. To ensure that you are buying an unlocked cell phone, tick the "unlocked" option under the carrier listings on the left side of your screen.
It is important to note the seller rating before going through with a purchase. Verify not only that the seller has a large amount of feedback, but that the vast majority of it is positive.
3. Tiger Direct
The unlocked phone section on Tiger Direct is primarily focused on smartphones, but also includes a number of less expensive unlocked feature phone models. Feature phone devices like the Samsung E1205 are available for as little as $30, but newer and more powerful smartphones, like newest Samsung Galaxy, can sell for as much as $600.
The site is very easy to use and navigate. The left sidebar lists the top 10 sellers, helping consumers decide on the most popular handsets currently offered. Shoppers can filter the results based on price range and manufacturer.
Customer service appears to be good, including an online chat option that is available Monday to Friday 7 a.m. to Midnight ET, and Saturday and Sunday from 8 a.m. to Midnight ET. Reviews of Tiger Direct, as posted on Trust Pilot, are mixed. Reviewers seem to be divided between praising the company and complaining about service or shipping. User "Savy Guy" says that he has "been ordering from tigerdirect for years now and never had a problem with them."
4. NewEgg
Just as Tiger Direct is known primarily as an electronics and computer parts retailer, the same can be said about NewEgg. However, the NewEgg unlocked cell phones category is actually quite robust. There are three main ways to shop for unlocked phones on the site: by operating system, by brand or by form factor.
NewEgg sells unlocked iPhones, as well as smartphones powered by Android, BlackBerry or Windows Phone. Most major brands are available, including Motorola, Sony Mobile, and LG Mobile, as well as lesser known brands like BLU and Unnecto. Non-smartphones can sell for as little as $25, while higher end smartphones are much more expensive.
Free shipping is offered on nearly all phone purchases, including the less expensive feature phones. Reviews of NewEgg on SiteJabber are generally positive. As an example, user SP says Newegg is a "great website for electronics."
5. Amazon
It's not surprising that this incredibly popular online retailer also sells unlocked phones. Amazon.com allows you to browse through the selection of unlocked cell phones based on brand, offering a wide selection from BLU, Sony, Samsung, HTC, BlackBerry, Apple and more. Expert wireless advice is available via telephone seven days a week and most phones will qualify for Amazon's free super saver shipping.
If you are already a member of Amazon Prime, then it makes sense to shop here for phones because of the free two-day shipping option. Pricing is competitive and the product pages are filled with reviews and other useful information. It should be noted, however, that not all phones sold on the Amazon website are actually sold by Amazon, as there are third-party resellers who also list their products on Amazon.
6. Ratuken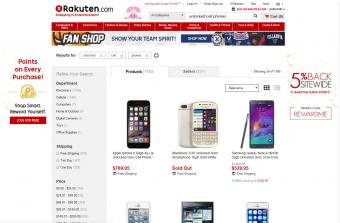 Formerly known as Buy.com, the site has since been rebranded as Ratuken.com Shopping. The online store still sells a variety of consumer electronics, books, toys and clothing, but there is also a section with unlocked phones. The selection does not appear to be as large as what is offered by some of the other online stores, but major brands like HTC and LG are represented, as well as older devices like the Sharp FX Plus, which looks like the old T-Mobile Sidekick series.
Most phones are priced between $60 to $500. with free shipping provided on several models. The site is not quite as easy to navigate as the options listed above, as there are fewer options for filtering the search results. Customer service will vary because, as with Amazon, this site lists products from third-party resellers.
Unlocking Phones After the Fact
Buying a new unlocked smartphone will always come at a premium over the price you may be able to get when buying a locked phone on contract from a carrier. If the intention is only to use international SIM cards when traveling abroad and staying with the original carrier domestically, it may make more sense to buy the locked phone and have the carrier unlock it for a fee or unlock it yourself. Keep in mind, though, that it is not legal for U.S. consumers to unlock phones purchased after late January of 2013.