Smartphones have come to replace many other electronic devices, including digital cameras, MP3 players, and GPS navigators. The same can be said about garage remotes, thanks to the rise in availably of garage door opener apps. Since smartphones already come with an array of wireless technologies, several solutions have been invented that take advantage of their existing wireless radios, adapting them to open garage doors, turn on lights, and much more.
Four Smartphone Apps to Open Garage Doors
In general, the garage door opener apps themselves are free to download onto compatible smartphones. However, they generally require additional hardware or specific models of garage door openers in order to operate correctly.
1. Garage Mate by BTmate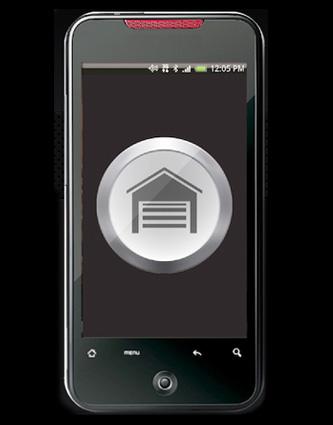 The Garage Mate solution from BTmate offers a wide range of compatibility with a number of different garage door openers from Chamberlain, Liftmaster, Legacy, Raynor, and Wayne-Dalton, among other brands. Using the app requires a five minute installation of a Bluetooth headset and a $1 part from an electronics store like Radio Shack, following the instructions in the DIY YouTube video. It is also possible to purchase a complete kit from BTmate for under $50 that offers optimal compatibility and the simplest installation.
The Bluetooth headset is securely paired with the smartphone via the Android application, which can then open and close the garage door just like the regular remote. The effective range is the 30-feet (10 meter) standard for modern Bluetooth.
The app is free for the first 30 clicks, after which a $1.99 lifetime license key fee must be paid. It can be downloaded from BTmate.com or Google Play, where numerous positive customer reviews have been posted. One customer says the "app is clean, simply and easy to use; exactly what's needed."
2. Tap It Open by Simon Says
Working in much the same way as BTmate's solution, Tap It Open also utilizes the existing Bluetooth technology found in modern smartphones to provide the wireless connection between the phone and the garage door opener. There is no cost for the app, but it requires the purchase of the Tap it Open kit, which retails for $49.95. The kit is compatible with a number of major brands of garage door openers, including those from Genie and Chamberlain.
The app supports up to two garage door openers per phone, but each garage door opener can work with multiple Android smartphones. Installation is very simple, requiring just two wires that have to be connected. Added security can be found through the optional password protection and the range is comparable for other Bluetooth devices.
The free app can be downloaded from the Google Play Store, where it has an overall rating of 5 stars with more than 50 reviews. One review says the "instructions were super-easy to follow" and that the consumer "had it working in less than 5 minutes."
3. Craftsman Garage Door by Sears
Offering a great deal of added functionality is the Craftsman Garage Door app by Sears. Available for iPhone via the iTunes Store and Android via the Google Play Store, this free smartphone app works in tandem with Craftsman's AssureLink connectivity solution. Unlike Tap It Open and Garage Mate, the Craftsman app only works with compatible Craftsman garage door openers. However, it also doesn't rely on Bluetooth, using full Internet connectivity instead by way of the Craftsman AssureLink platform.
It is possible to check if the garage door is open and closed from anywhere you have an Internet connection, remotely opening and closing the door as needed. This extends well beyond the 30-foot range of Bluetooth. The app also supports the ability to turn connected lights on and off remotely, but it does require the separate Craftsman AssureLink Plug-in-Light Control to do so.
While some customer reviews on iTunes and Google Play have been positive, there are also a number of negative comments. For example, several customers on iTunes posted that the app is "too difficult to use" and "could be simpler," as the app does not remember account information by default.
4. LiftMaster Home Control
One of the newer standards for connected garage door openers is a technology called the LiftMaster MyQ Internet Gateway, a device that costs just under $55. The accompanying LiftMaster Home Control app from Chamberlain can be downloaded via Google Play for Android and via the iTunes Store for iPhone, works in tandem with MyQ-enabled garage door openers, gate operators and house lights from anywhere your phone has Internet access.
With the mobile app, it is possible to monitor and control multiple garage door openers, turn lights on and off, add and delete additional accessories, and adjust the security levels. There is a passcode option for added security. The free app requires registration and use of a LiftMaster MyQ online account.
Mixed reviews have been posted on both Google Play and iTunes, citing poor tech support and issues with spotty coverage.
Moving Toward the Smarter Home
Convergence devices are becoming increasingly popular, as a single product can effectively replace two or more products. Smartphones are becoming this next logical step, slowly replacing wallets, portable video players and portable gaming consoles. The same is becoming true for using smartphones for the purposes of a smarter home. Garage door opener apps can be much more flexible than their conventional "clicker" remote counterparts, just as home automation apps for adjusting the thermostat, unlocking the front door, and turning on the lights are increasing in popularity as well.